Appreciation of Works by Chinese Ceramicist Qu Bing the 9th China Changchun International Ceramics Symposium
befrom: writer: newstime:2021-03-24 14:05:30 View:
Work Ⅰ:< Pebbles > Chinese black clay
Size:18×18×32 cm
Introduction:The pebbles are a memory of time and water, each one is plump as a plant seed and full of the tension of life. They are similar but distinctive, harmonious and different. The author has collected folk steamed bread moulds one by one from Shandong province, and then reproduced the wonderful representative patterns of carp and lotus on the pebbles, signifying 'a lotus year with fish' (the good wish of continuous surplus for the next year).
WorkⅡ:< Jumping the Dragon Gate>
Size:19×19×43 cm
Introduction:The wooden moulds of steamed bread, unique Shandong folk tools – 'ka zi', are reproduced in clay and re-organised into a modern shape, expressing the symbolism of motivation and striving for advancement.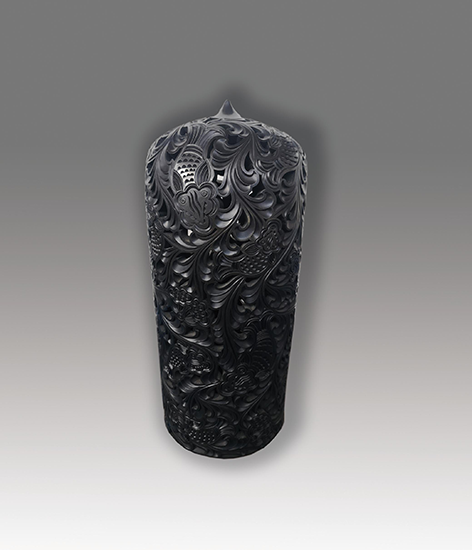 WorkⅢ:< 'A Lotus Year with Fish' > Grey clay

Size:26×16×39cm
Introduction:The ceramist has taken a unique wooden steamed bread mould 'ka zi' from Shandong Province and generalized the design to give it a strong ethnic folk character. Combined with the natural flowing shape of the pebbles, which reflects the fusion of folk art and modern design concepts.