The Opening Ceremony of the 9th China Changchun International Ceramics Symposium is Successfully Held

Opening Ceremony Site
On August 19, 2020, the 9th China Changchun International Ceramics Symposium and Lotus Mountain Ceramics Tour Exhibition (hereinafter referred to as symposium) hosted by Changchun Lotus Mountain Eco-tourism Resort Administration Committee, Foreign Affairs Office of Changchun Municipal People's Government, Changchun Council for the Promotion of International Trade, Jilin University of Arts, Fine Arts Academy of Northeast Normal University and Art Gallery of Jingdezhen Ceramic Institute was grandly opened in Tiandingshan Ski Resort, Lotus Mountain Resort. The exquisite ceramic works and vivid creation stories were applauded by all the visitors present.
Shao Daming, director-general of the Lotus Mountain Administration Committee, delivers a speech
In this year's Changchun International Ceramics Symposium, 150 fine works of 50 ceramicists (23 IAC members) from 25 countries and regions were finally shortlisted and more than 170 ceramic works were exhibited. Among them were the works of "A Goat with Its Head Held High" by Zhou Guozhen, a leading modern Chinese ceramic artist, and the "Tenderness" by the master of ceramics Huang Zhiwei. There were also works of some international ceramic masters, such as Paola Grizi of Italy, Elena Slastnikova of Russia, and Marko Galenko of Ukraine.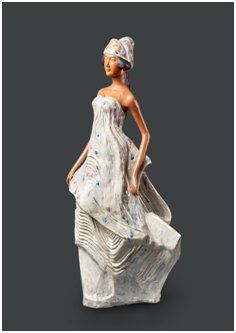 "Tenderness" by Chinese ceramist Huang Zhiwei
From now on, the exhibition will be open to the public free of charge until September 15. There are three exhibition areas in total, namely "Current Ceramics Exhibition Area", "Previous Ceramics Exhibition Area" and "Traditional Chinese Ceramics Exhibition Area", with a total of 170 pieces of ceramic art works on display.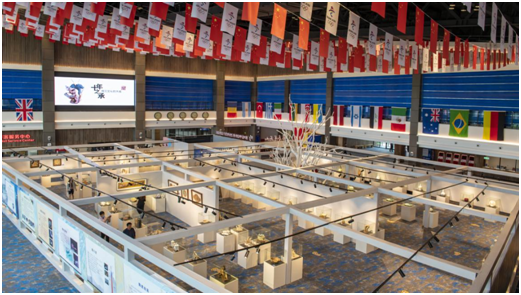 Overhead view of exhibition hall
Each piece of exquisite ceramic works shows the cultural exchange and fusion between tradition and modernity, East and West. These works are exquisitely conceived and technologically skillful, which fully represent the creation and development level of contemporary ceramic art, and also show the different artistic styles and personalities of the East and the West due to different countries, ethnicities, regions, traditions, cultures, and customs. At the same time, in the ceramic experience area, activities such as ceramics throwing, circling clay strip and handmade purple clay pot are also staged wonderfully. After the opening ceremony, the exhibition officially opened, and the long-awaited art lovers poured into the exhibition hall and started their art appreciation tour.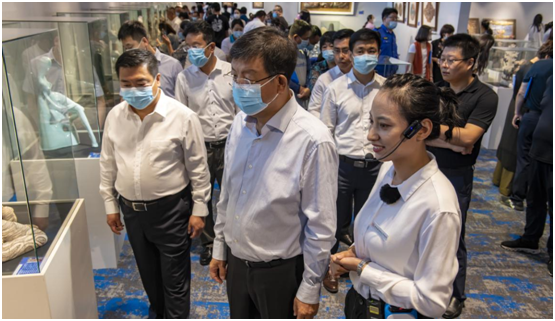 Provincial leaders appreciate ceramic works accompanied by Director-general Shao of the Administration Committee
Shao Daming, secretary of the CPC Working Committee and director-general of Changchun Lotus Mountain Eco-tourism Resort Administration Committee, said that Changchun has successfully held nine international ceramics symposiums. During this period, 260 ceramists from 57 countries and regions on five continents participated and created more than 1,000 pieces of ceramic works with ingenious ideas, outstanding personalities, different styles and exquisite techniques. These works have been permanently collected at the Changchun International Ceramics Gallery which is located in Lotus Mountain Resort. Through this ceramic festival, it will further promote the ceramic cultural exchange among countries and regions around the world, enrich the cultural life of Changchun citizens, enhance the popularity of Lotus Mountain and advance the integration of culture and tourism in the resort, so as to provide a strong impetus for the introduction of Chinese traditional ceramic culture into the classrooms of primary and secondary schools in Jilin Province and the construction of Changchun as a "Cultural City in Northeast Asia".
A Ceramic teacher is showing the throwing skill
Shao Daming also said that in the future, Changchun Lotus Mountain will establish the Changchun International Ceramics Gallery which is currently in the architectural planning stage and is expected to be completed in 2022. The scale of the entire venue is supposed to be around 30,000 square meters, and the main settings include ceramic exhibition area, creation area and creation rooms and research bases for ceramic artists from various countries. "With the official completion of the ceramic gallery, it will provide exhibition and exchange base for domestic ceramic lovers to create, study and learn ceramics. It will also enable the people of Changchun to appreciate exotic and unique ceramic works in their hometowns. Let ceramic art become an important carrier of cultural exchanges between Changchun and the world."
From August 2020 to January 2021, the exhibition will be held in Tiandingshan Ski Resort of Lotus Mountain, Changchun International Ceramics Gallery and Changchun Water Culture Ecological Garden respectively, and will be open to the public free of charge.